CASE STUDY: REENTERING A CHANGED WORLD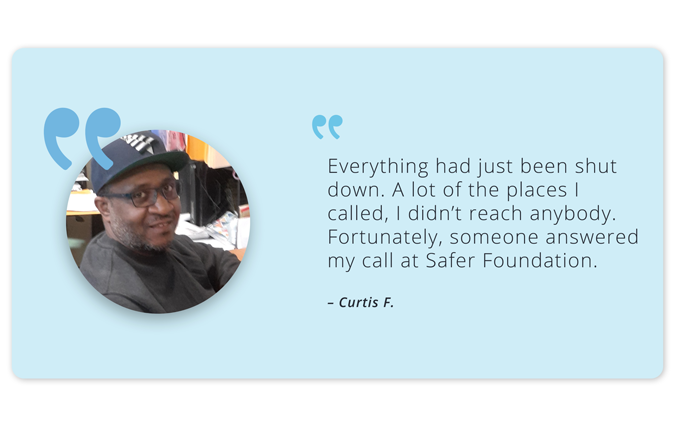 MEET CURTIS
Reentering society is never a small feat for justice-involved individuals. Many find themselves without the essentials we so often take for granted—housing, identification, jobs, and transportation—and without the guidance to obtain them. Organizations like Safer Foundation exist to ease the reentry process, but even finding a provider of reentry assistance can be difficult—particularly amid a global pandemic that shuts down many organizations' operations.
This was exactly the challenge our client Curtis faced when released from prison just as Covid-19 swept the globe. After spending over two decades in the justice system, Curtis was granted clemency and reentered a changed world; Covid-19 had just been declared a nationwide emergency, and many services had become limited or entirely unavailable. An already difficult transition back into society was made even more challenging, and Curtis didn't have many options to safely adjust.
"The hardest thing to find was what kind of resources were available," Curtis explained. "Medical care, rental assistance, who's going to help me navigate those things? Initially, it was about finding out what I needed and where to get it. Everything had just been shut down. A lot of the places I called, I didn't reach anybody. Fortunately, someone answered my call at Safer Foundation."
CAREER ASPIRATIONS
Before anything else, Safer Foundation was able to help Curtis with the basics, like clothes, public transportation, and housing. With those needs met, he was able to take on the daunting task of finding employment during a turbulent time in world history.
"My goal was to get a job, to have a job. When I started working with Safer, I saw that there were options for me, even though I do have this background and have been out of the workforce for a significant amount of time. I still have the same work ethic, and Safer helped me focus my goals for what I needed to do here, being out in society."
Through a program at Safer Foundation, Curtis earned his commercial driver's license. This opened the door to a steady, essential job he could perform during the early stages of the pandemic and well beyond. He is now a driver for a beverage company and added that he is "on track to make the money [he] deserves in this field." However, his aspirations don't stop there.
Like many of our clients, once back on his feet, Curtis felt compelled to give back to the community and help others who have faced similar hurdles. He understands the value of community outreach and connecting with others who have made the same journey.
"I have a passion for mentoring and social services. Safer reached out to me about that and has shown me that there are people who have traveled the same path as me who work for Safer, so that lets me know there are possibilities."
MANAGING SUCCESS
Safer Foundation's services don't stop once clients have found a job. Curtis explained that, with Safer Foundation's help, he has learned how to manage his finances and set himself up for success by being connected with a financial coach to navigate credit, borrowing, and budgeting.
Now, with the early days of the pandemic and his reentry behind him, Curtis is feeling more confident than ever that the work he put into his job and livelihood has set him up for continued success.
"Learning the things I've learned, job-readiness things, financial things, has put me in a place where my finances are coming together. I'm able to manage budgets and things like that, so my future is great."
RECOMMENDING SAFER
Curtis wanted to make sure that other people knew about and took advantage of the same resources that he received, no matter what their background is. He had taken steps on his own to set himself up for success, but he recognizes that not everyone is in the same position.
"Having done such a significant amount of time in prison, I had done things to move my life in a different direction," he said. "I knew what I wanted to do. But there are people who don't have any kind of direction for what they want to do, and Safer has services to help you narrow those things down."
He added, "My experiences were nothing but positive [with Safer]. And if they weren't able to help me with a situation, they pointed me to other organizations that could help. If they don't have what you need, they'll help you get it, so it won't be trial and error."
With Safer Foundation's help, Curtis was able to achieve some of his immediate goals and put himself in a position to reach even higher. In his mind, Safer Foundation stays true to its name and its mission of empowering justice-involved individuals to achieve their potential.
"The word [Safer] speaks volumes. It's a safe place for people to come and get the information they need. To help people navigate in a safe way and feel comfortable because there's so much anger built up from being left out. Safer sort of soothes that. They help you to navigate and become confident again in your ability to become a member of society."
If you'd like to donate to make the road to a better future a broader and smoother journey, with more service offerings and avenues of opportunity for people like Curtis, simply VISIT OUR DONATION PAGE.