The Social Impact Investment Fund: Because Everyone Deserves a Second Chance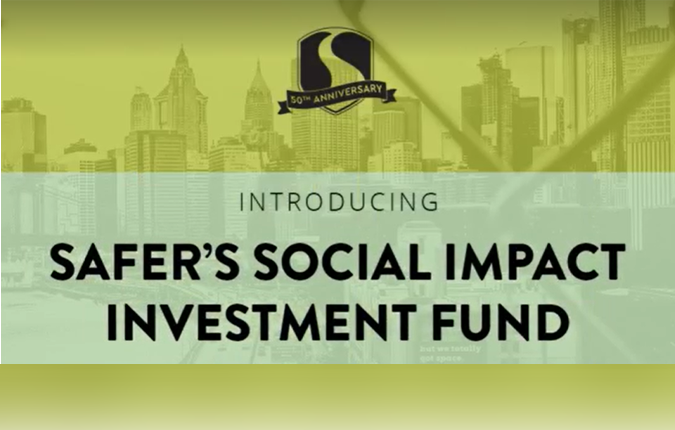 Safer Foundation's Impact – By the Numbers
Safer Foundation's new Social Impact Investment Fund will be a powerful way to help us achieve even more with our core mission: To support, through a full spectrum of services and advocacy, the efforts of people with arrest and conviction records to become employed and valued members of their community and, as a result, reduce recidivism.
In the state of Illinois, mass incarceration impacts millions of people—and not just those directly incarcerated, but the community at large.
Mass Incarceration in Illinois:
Illinois state prisons house about 41,000 inmates. Local county jails also hold 23,000 inmates on average. The prison system in Illinois does not help inmates reintegrate with life after imprisonment. Some sobering statistics include:
3 million people in Illinois have an arrest or conviction record, which creates significant barriers to career stability and success.
People released from prison face approximately 500 employment-related barriers in Illinois.
65% of Illinois employers refuse to hire people who have any conviction, even minor, on their record.
96% of convicted people in Illinois eventually return to their communities. Of those, 43% recidivate within three years of release.
The average cost of one recidivism event in Illinois is $151,662.
On the positive side, studies have consistently shown that "second-chance hiring" of justice-involved individuals helps contribute positively to business performance due to the dedicated and committed talent pool. In addition, lowering recidivism rates can have a significant positive financial impact on the state; reducing recidivism by 1% could save the state of Illinois $10 million annually.
The Mission and Purpose of Safer Foundation's Social Impact Investment Fund
Safer Foundation's Social Impact Investment Fund is built on the common goal of rebuilding economic security in communities by providing skills, education and training, and social support to people with arrest and conviction records. We want to help clients find living-wage employment and necessary social services, enabling them to transform their lives. We additionally facilitate housing, provide healthcare resources, and focus on advocacy and public policy reform.
The Social Impact Investment Fund will:
Be a resource of unrestricted funding for Safer Foundation to develop strong programs and new service and product offerings to meet the needs of our clients and their families.
Allow corporations, funders, donors, and investors more ways to contribute to Safer Foundation's mission and hands-on work.
Reward fund supporters with a variety of tiered perks and exclusive avenues for recognition.
Why Your Investment Matters
Safer Foundation wants to make giving easier and more engaging for donors. We see you as our partners. Without you, we would not be able to support the thousands of clients that pass through our doors each year. Our Social Impact Investment Fund is designed with flexibility in mind to help donors at varying levels get involved. We offer multiple investment levels ranging from one-time gifts of $25,000 to multi-year commitments of over $1 million.
Your investment is crucial to successful reentry for justice-involved individuals in today's challenging socio-economic landscape, which requires holistic, cross-system solutions to achieve. The best solutions don't simply put a band-aid on the issue of recidivism or help address one individual's struggles, but thoroughly transform the system to improve the prospects of justice-involved people for generations to come.
The Social Impact Investment Fund Focus Areas
The Social Impact Investment Fund is focused on supporting five main areas of Safer Foundation's work:
General Agency Support
General agency support covers a wide range of needs for Safer Foundation, from administrative support to marketing.
Technology Enhancements for Service Delivery
Service delivery covers a lot of ground, and the better technology we have, the more effective we can be. Basic needs for services include food, clothing, digital skills, and financial literacy.
Career Readiness and Employment Services
Safer Foundation's main focus is to help people find jobs. Our career readiness and employment services are therefore critical to our success. We focus on offering innovative programs to help make our clients truly marketable and ready to work, including high-demand skill training and entrepreneurship lessons.
Supportive Reentry Network Collaborative
Returning to the "real world" after time spent incarcerated can be disconcerting and difficult. Safer Foundation supports our clients with reentry services, including reentry housing programs and support.
Research, Policy & Advocacy
Finally, some of our most important behind-the-scenes work is in research, policy, and advocacy. To do better by our clients, we need not only the right information, but also better laws and community support.
How We Thank Our Social Impact Investment Fund Supporters
We know your support is driven by far more than the desire for accolades, but to help make our fund engaging and inspiring, we offer many avenues for acknowledgment and recognition. Different tiers of support will include different "perks." Here are some of the ways we might thank you, depending on your investment level:
Welcome letter and certificate
Quarterly newsletter
Lapel pin
Membership in the 50th Anniversary Impact Club
Invitations to our gala and other events
Lunch with Safer's President and a tour of Safer sites
Public acknowledgements (with donor permission)
Our acknowledgement opportunities also include features in the Safer Foundation Annual Report, the year-end Social Impact Fund report, the Safer Foundation Spring Gala Program, and the Safer Foundation website. These acknowledgements will always be included with the donor's permission, if gift confirmation is received by publication date.
For corporate and business donors, we also offer website and social media features and tools to support corporate responsibility promotions and marketing efforts.
Ultimately, we hope our Social Impact Investment Fund becomes more than just a fund, but a community of dedicated people who value the potential in others. Thank you for your interest and support.
Do You Believe Everyone Deserves a Second Chance?
If you agree that people with arrest and conviction records deserve a second chance, there's no better time to join us. If you or someone you know would be excited to be on the ground floor of Safer Foundation's Social Impact Investment Fund, let us know.
For more information on how to join our Social Impact Investment Fund, please contact our Sr. Vice President of Strategy & Innovation, Harry Alston, Jr., Ph.D., at [email protected] or 704.609.8230.