Safer Foundation Reentry Support Breakfast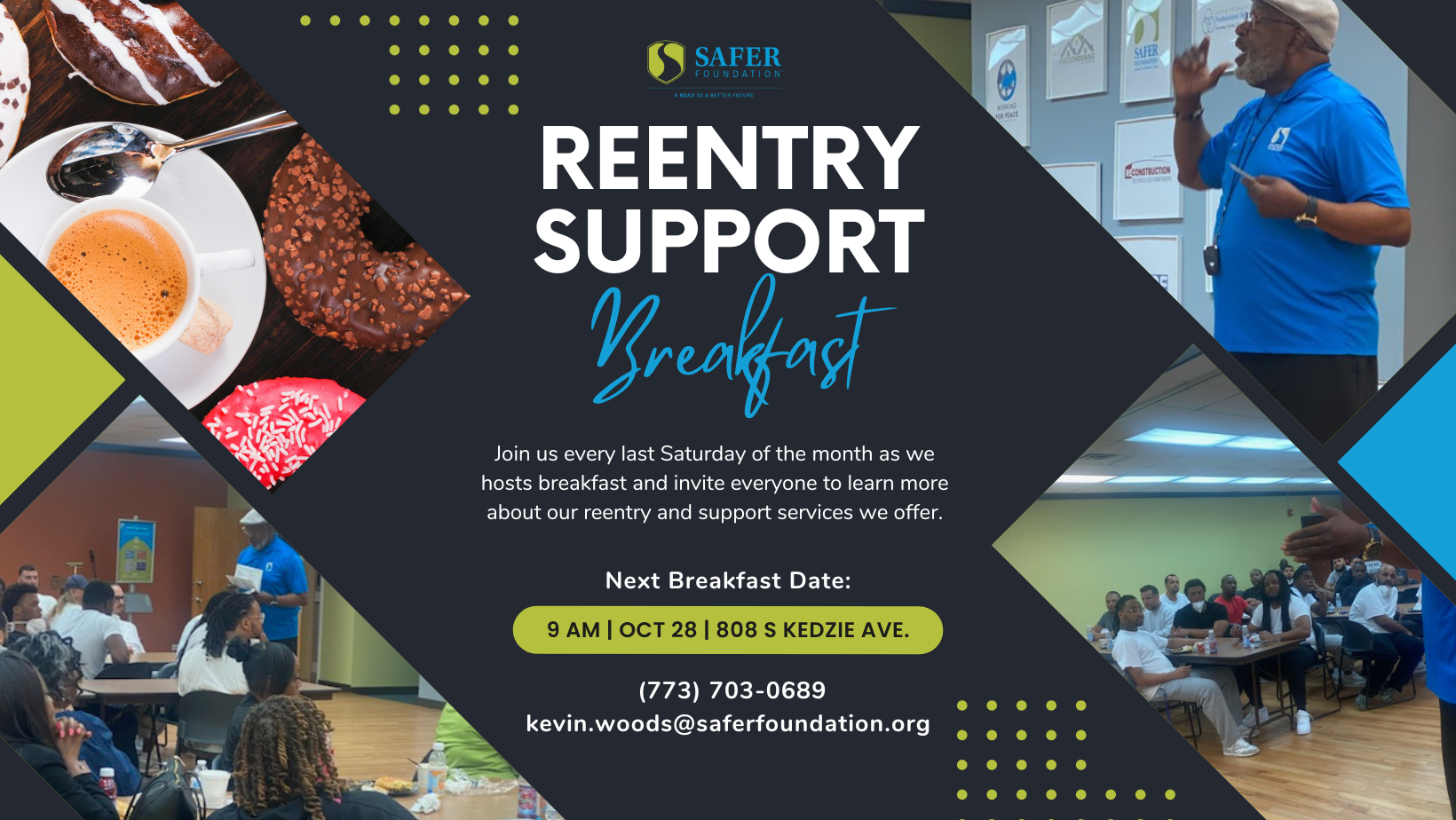 The Safer Foundation Reentry Support Breakfast is a beacon of hope and support for individuals impacted by the Criminal Legal System. This monthly event signifies the power of community, resilience, and the unwavering commitment to help justice-impacted individuals unlock their true potential.
Background and History:
Established as a monthly gathering, the Reentry Support Breakfast celebrates its first anniversary this upcoming February. Every fourth Saturday of the month, individuals impacted by the Criminal Legal System, including those on parole or recently released, find support and opportunity at 808 S. Kedzie Ave., Chicago. The event is a result of the relentless efforts of Kevin Woods and the Quest Team, who reach out to potential attendees. Operating through the Access to Justice Program, Kevin Woods visits Illinois Department of Corrections facilities, and invites individuals about to re-enter society or soon to be released on parole about this transformative event. Jasmine Love through the Quest Team, spreads the word in the community, ensuring everyone knows they have a place where they can find understanding and support.
Event Overview:
Despite The Reentry Support Breakfast being a relatively young event, it has made a profound impact on the lives of justice-impacted individuals. On average, 50 to 70 people attend each month.
Kevin Woods and co-host Kevin Brown lead the event, featuring heartfelt stories from 2-3 justice-impacted individuals. Safer Foundation staff members contribute their insights, detailing the services Safer Foundation offers which includes employment, training and education, and advocacy. Jasmine Love and Daneen Perkins, dedicated supporters of the event, ensure that the event runs smoothly month after month.
Notably, this event is fueled by passion, entirely driven by volunteers. Every speaker and staff member participates because they wholeheartedly believe in the Safer Foundation's mission.
Past Highlights:
For Kevin Woods, one of the best moments is arriving on the day of the event each month and witnessing the individuals show up, ready to embrace the support and opportunities offered. It's a reminder that every life touched is a step towards a brighter future.
Vision for the Future:
The Safer Foundation Reentry Support Breakfast isn't just about the present; it's about creating a better tomorrow. Kevin Woods and Kevin Brown harbor a vision where attendees forge lasting friendships and support groups. They hope that attendees can create lasting bonds with others who have faced similar challenges, providing a network of support and friendship as they journey toward a better future.
Conclusion:
Through Safer Foundation's unwavering commitment to empowering individuals and strengthening communities, a brighter future is being forged, one reentry breakfast at a time. If you or someone you know is interested in joining a Reentry Support Breakfast we welcome you on the fourth Saturday of the month, starting a 9:00 am at 808 S. Kedzie Ave. Chicago, IL 60612. Breakfast will be provided. Join us, and together, let's build a future filled with support, understanding, and opportunity.