Breaking Barriers & Building Futures: Celebrating the Class of 2023 in Safer Foundation's Youth Empowerment Program (YEP)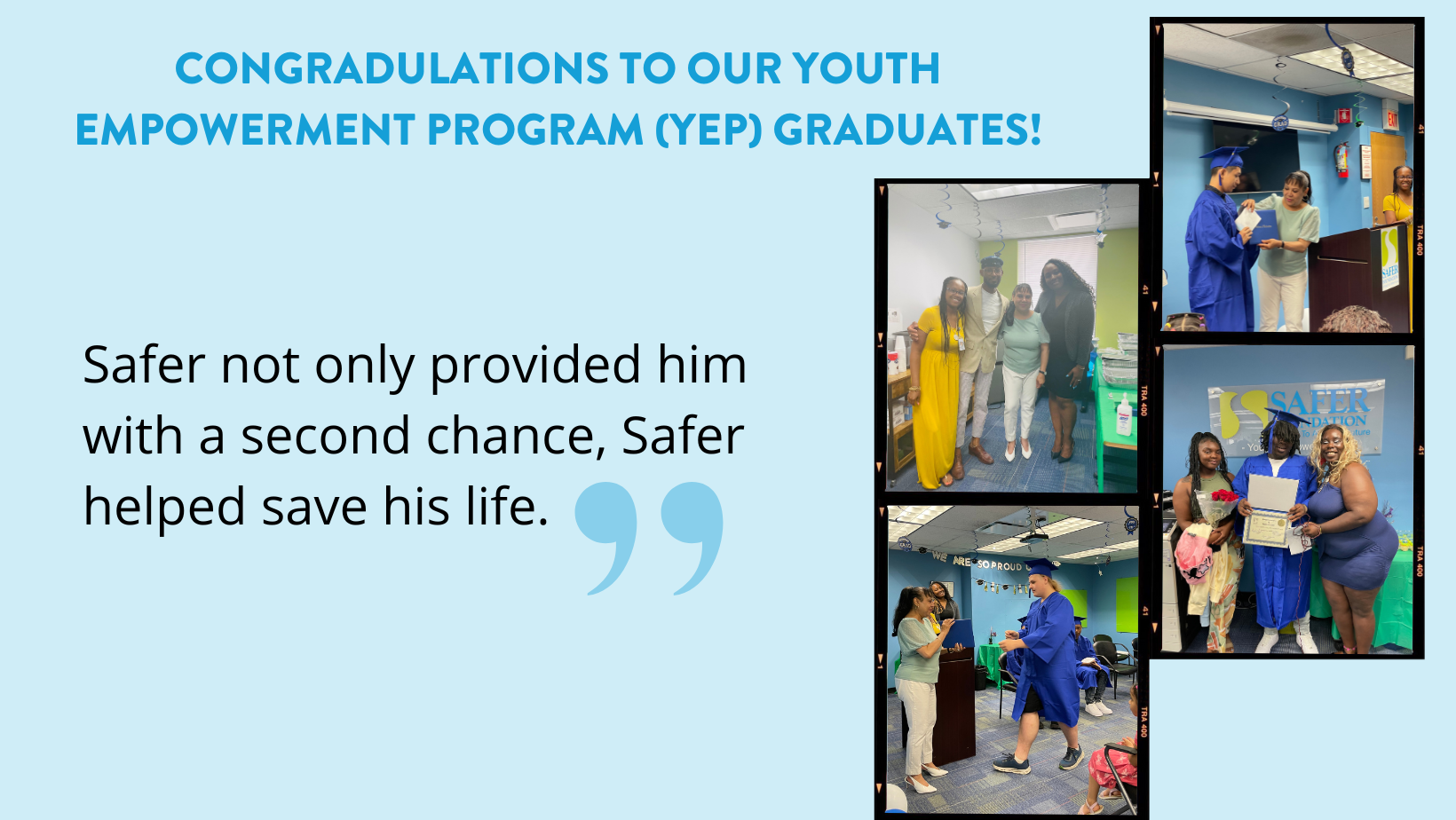 Introduction:  
This June, Safer Foundation's Youth Empowerment Program (YEP) congratulated four students on receiving their High School Equivalency Diploma (HSED).  
Safer Foundation's Youth Empowerment Program (YEP) provides an eight-week program to youth ages 16 to 24 to earn their High School Equivalency Diploma (HSED) and gain valuable life skills. The program is open to participants with or without a conviction record, the program allows you to gain hands-on job readiness training, career exploration, money management training, and more to guide youth on the path to a better future. 
During this session, program participants also had the pleasure of taking part in our Grow with Google partnership where students were able to have hands on photography experience taught in partnership with alt Space [alt_] Chicago,  a organization put together to create a new community narrative for Chicago's south and west side by way of art.
Among the graduates, Jacob, Jesus, Richard, and Naphtali, each found their path to success through YEP, overcoming challenges with the unwavering support of the program's dedicated staff and their own determination. Their inspiring stories reflect their ability to conquer obstacles and achieve their diplomas, marking the beginning of a promising future. 
Jacob Koll: A Journey of Nurturing and Knowledge 
Two and a half months ago, Jacob stepped out of O'Hare International Airport with no idea of what awaited him in this sprawling city. "The first people to offer me an opportunity was the Safer Foundation's Youth Empowerment Program," Jacob recalls. He appreciated the nurturing and caring environment YEP provided. "Every week, my improvements, progress, and knowledge noticeably increased." Jacob is grateful for the program that helped him attain a high school level of knowledge and earn his diploma. Inspired by his experience, he looks forward to delivering a fiery speech to new program members, emphasizing the compassion and strength that Safer Foundation's YEP delivers. 
Jesus Segura: Motivated by Inspiration 
Jesus's decision to join the Safer Youth Empowerment Program was driven by his desire to obtain his High School diploma. "What I liked about the program is how the teachers were helpful, patient, and motivated students to do better," Jesus shares. He found inspiration from clients at the U.S. Bank where his sister works. Overcoming challenges like the commute and early mornings, Jesus achieved several milestones during his time in the program, including his constitution certificate and improved scores on the TABE test. Looking ahead, Jesus plans to explore trades and job opportunities. He aspires to return to the program to inspire and motivate future students, showing them what is possible. 
Richard Bell: Embracing a New Path 
Richard's journey led him to the Safer Youth Empowerment Program after feeling out of place in a traditional high school. His grandmother played a pivotal role in inspiring him to join YEP. "I liked the communication between students and instructors. Whenever you don't understand something, they do their best to help assist you," Richard shares. He found the program to be a fun experience and appreciated the extracurricular activities such as photography and growing with Google. Overcoming math challenges, Richard experienced significant success in improving his math skills. As he moves forward, Richard plans to work towards getting his life fully on track. With gratitude, he reflects on the program's impact on shaping his post-secondary decisions. He would be honored to return and speak to future students, despite his shyness. 
Naphtali Israel: Overcoming Challenges with Determination 
Naphtali's journey to the YEP program started through the Safer I-Matter program, where he sought employment but lacked a high school diploma. He found inspiration from his grandmother and encouragement from the I-Matter instructor, Elias, who introduced him to the Youth Empowerment Program. "What I liked about the program is the support I received here, the help and preparation for the test, and the resources Safer provides to better my future," Naphtali shares. While facing challenges in his relationship with his mother and navigating his probation situation, Naphtali persevered. He achieved several highlights during his time in the program, including improved TABE test scores, passing his constitution test, and scoring well on GED practice tests. With determination and continuous studying, Naphtali worked hard to achieve his High School Equivalency Diploma (HSED). He acknowledges the significant help from the Safer staff in shaping his post-secondary decisions, particularly in his interest in the real estate business. Although shy, Naphtali would be honored to return and speak to future students, sharing his story of resilience and success. 
About Alt Space [Alt_] Chicago
A collaboration between Jon Veal and Jordan Campbell, alt Space Chicago (abbreviated alt_)  was incepted by the two artists in response to the trauma of surrounding communities and the belief that art could be used as a tool for healing. Campbell's family history of entrepreneurship and Veal's lifelong passion for art met in a resolution to positively disrupt their communities through tangible acts of service. Sharing the mutual motivators of family, community, change and servanthood, Veal and Campbell moved forward to create alt_
Since its inception, alt_  has expanded into an artist-led, Chicago-based non-profit that is dedicated to revitalizing communities through art and culture. alt_  provides an alternative to the dominant cultural narrative, manifesting new opportunities in a time of need on the South and West Sides of Chicago.
Conclusion: 
Jacob, Jesus, Richard, and Naphtali's stories exemplify the transformative power of Safer Foundation's Youth Empowerment Program (YEP). Through their determination, support from family and YEP staff, and overcoming various challenges, they successfully earned their High School Equivalency Diploma (HSED). These graduates are ready to embark on their future journeys, armed with the knowledge, skills, and inspiration gained from their experiences in the YEP program.
The profound impact of Safer Foundation's work is further affirmed by the heartfelt testimony of an aunt from YEP's previous graduates, who expressed, "He is sincerely grateful, as am I, for your caring hands, your patience, your tutelage and for the opportunity to obtain his High School Equivalency Certificate through Safer. My testimony is that Safer not only provided him with a second chance, Safer helped save his life. Continue your good works, and GOD bless." These success stories, alongside the testimony of transformed lives, serve as a reminder of the crucial work carried out by Safer Foundation's YEP. Their dedication and commitment continue to make a positive difference in the lives of young individuals, providing them with hope, direction, and a brighter future.