Honoring a Legacy: Safer Foundation's Magnificent Mural Tribute to U.S. Representative Danny K. Davis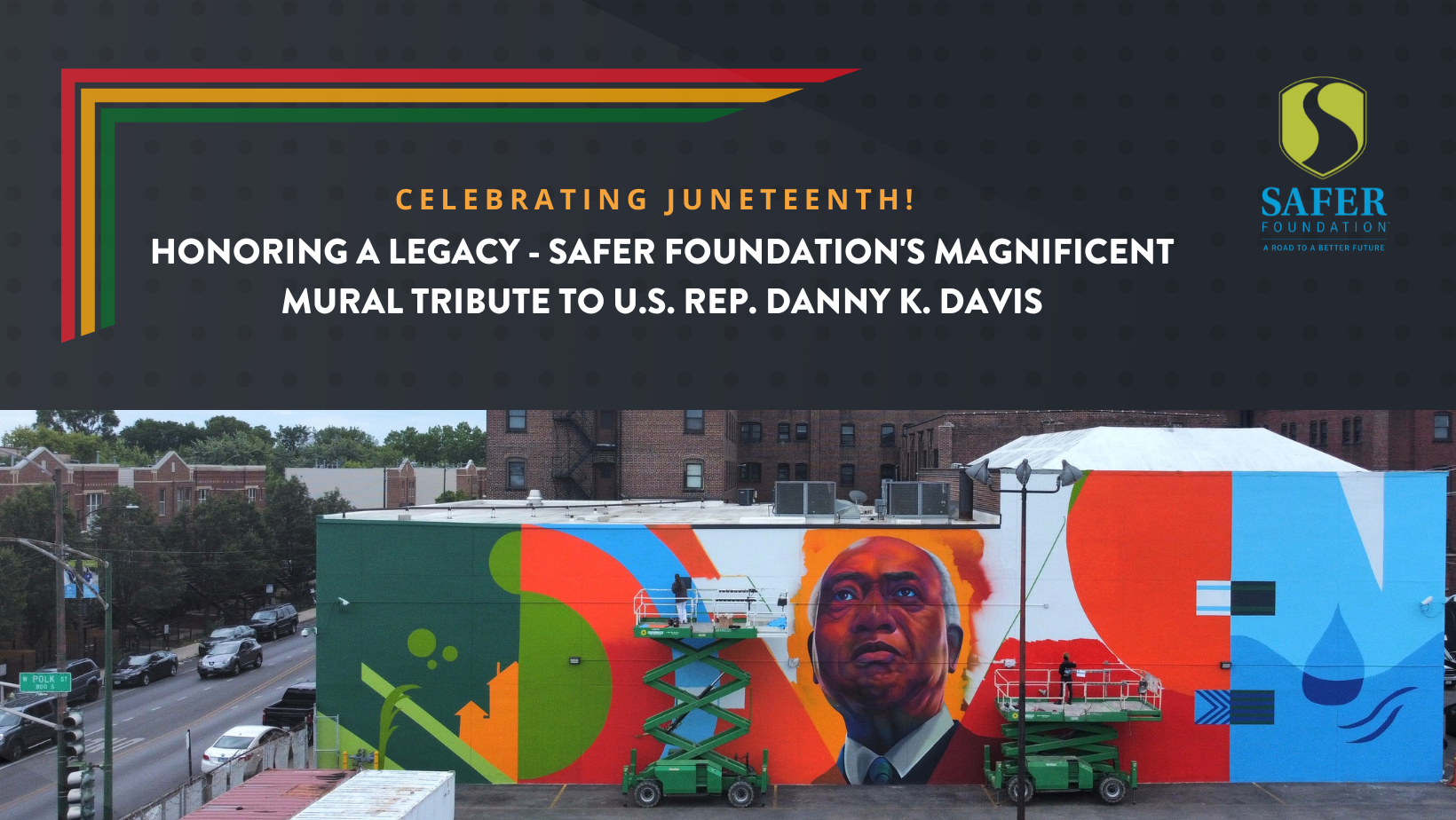 Introduction: 
Safer Foundation is nearing the completion of a magnificent mural paying tribute to U.S. Representative Danny K. Davis. This remarkable artwork stands as a testament to Rep. Davis' unwavering dedication to prioritizing the successful reentry of citizens with criminal records into society. Situated on Safer Foundation's Community Office building at 808 S. Kedzie Ave. in East Garfield Park, the 3,500 square-foot mural is expected to be finished during the week of Juneteenth. The mural, created by the talented lead artist Janel Young and her team, celebrates Rep. Davis' significant contributions to the rehabilitation and empowerment of individuals seeking a second chance.  
In addition to the mural, the Safer Foundation building will undergo light renovations to its facade and lobby area. Furthermore, the building will be renamed as The Safer Foundation-Danny K. Davis – Second Chance Center. This name change signifies the profound impact Rep. Davis has had on the organization and his ongoing commitment to supporting individuals with criminal records as they reintegrate into society. 
Honoring Rep. Danny Davis' Advocacy: 
For more than two decades, Rep. Danny Davis has been a strong advocate for the West Side of Chicago and marginalized communities throughout his career. Victor Dickson, President and CEO of the Safer Foundation, expressed his admiration, highlighting Rep. Davis' long-standing commitment to serving neglected communities. Rep. Davis even provided community services from the very building where the mural is being installed, further emphasizing the deep connection between his work and the Safer Foundation's mission.  
Recognizing Rep. Davis' Legislative Achievements: 
The Safer Foundation recognizes Rep. Davis for his pivotal role in sponsoring the national Second Chance Act of 2007. This groundbreaking legislation authorized federal grants to fund essential programs and systemic reforms aimed at improving the reentry process for individuals with criminal records. The Second Chance Act, signed into law on April 9, 2008, has since been reauthorized in 2019 and has provided over $1 billion in grants to grantees across 49 states. Safer Foundation has been a beneficiary of these grants, enabling them to support over 100,000 returning citizens in accessing vital services such as education, training, employment, and treatment. 
In addition to the Second Chance Act, Rep. Davis has also played a significant role in sponsoring legislation that created federally qualified health centers to provide healthcare in underserved communities. Through these efforts, the Safer Foundation has established the Supportive Reentry Network Collaborative, offering comprehensive wraparound services that connect returning citizens to essential healthcare. 
The Artists' Perspective: 
Janel Young, the lead artist responsible for bringing the mural to life, expressed her deep honor in being chosen to design and create the artwork featuring Rep. Davis. With her rising national acclaim and passion for equity, Young brings a unique perspective to the project. Having previously created remarkable artworks that have gained recognition, such as the Black History logo for Yahoo! in 2021 and features in the 2020 U.S. Open Tennis Championship, Young is known for using her talent to advocate for social change, racial and environmental justice, and the empowerment of artists. She believes that the mural will not only showcase Rep. Davis' accomplishments but also spark curiosity and inspire others to learn more about his extraordinary work. 
In collaboration with Janel Young, Thomas Evans, a.k.a. Detour, is an all-around creative specializing in large scale public art, interactive visuals, portraiture, immersive spaces, and creative directing. He strives to merge art and innovation in his work, constantly pushing the boundaries of traditional artistic mediums and incorporating new approaches. The work they have done to create the mural of U.S. Rep Danny K. Davis is nothing short of phenomenal and visually pleasing and they have honored him in such a way that can be seen first hand in the work they're completing with Safer Foundation.
Conclusion: 
The Safer Foundation's forthcoming mural honoring U.S. Representative Danny Davis serves as a poignant testament to his efforts in helping individuals with arrest and conviction records reintegrate into society. Rep. Davis' advocacy and legislative achievements have made a lasting impact on the lives of thousands of individuals seeking a second chance. Through the power of art, the mural not only pays homage to Rep. Davis but also serves as a catalyst for greater awareness and appreciation of the work being done to support successful reentry. As the mural nears its completion, the Safer Foundation continues its mission to disrupt the cycle of recidivism, providing individuals with a second chance at living productive and fulfilling lives. 
Additional Information: