Case Study: A New Start, 25 Years Later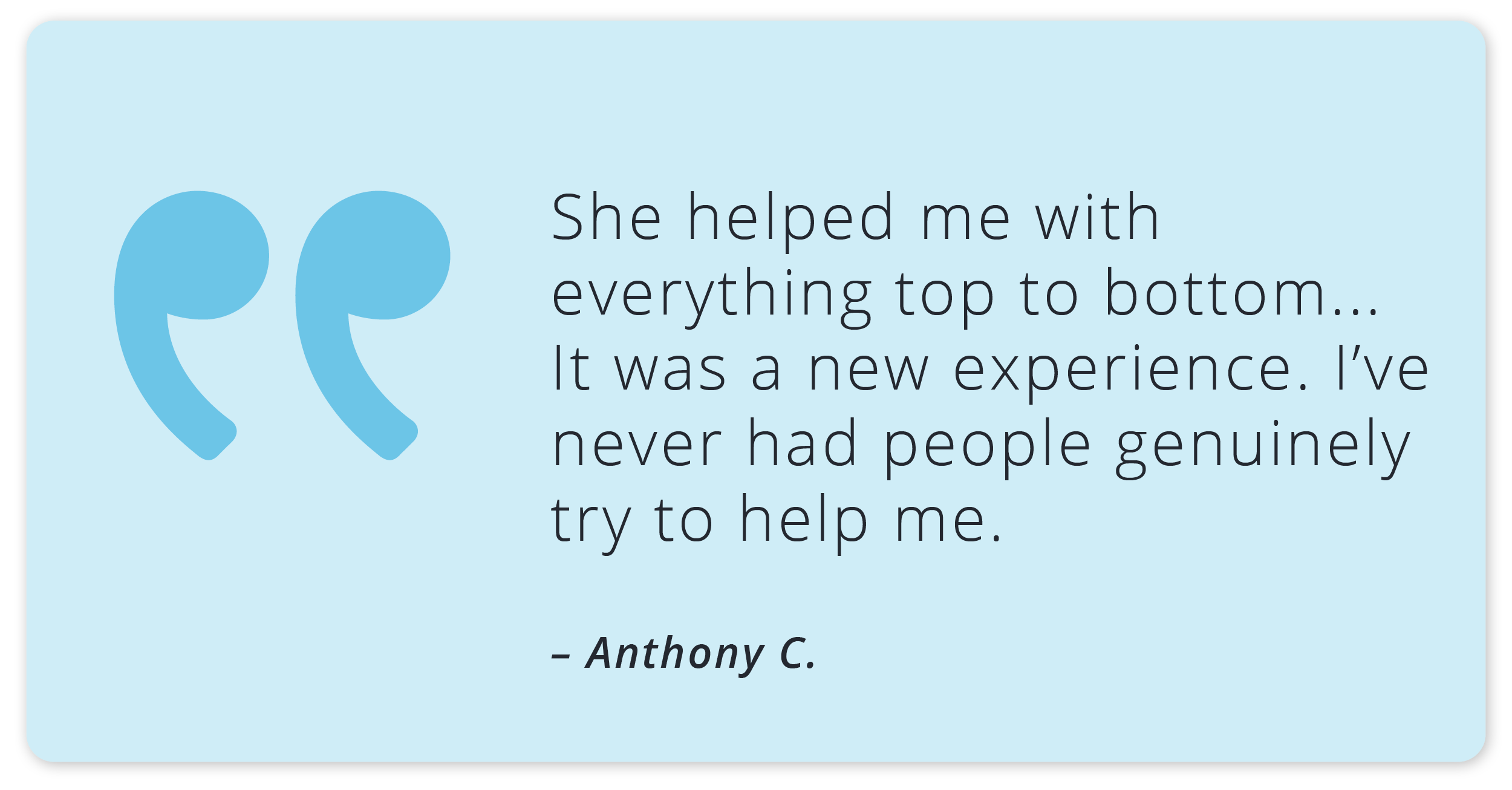 Every journey is different. Even the journey down the road to a better future. In celebration of Safer Foundation's 50th anniversary, we're sharing some of the incredible stories and successes our clients have achieved throughout our five decades of empowering formerly incarcerated individuals and reducing recidivism.
Meet Anthony C.
Anthony C. had been incarcerated for 25 years. Now in his late 40s, he came back to an entirely different world from the one he had left a quarter century ago. When he went to prison, cellphones were uncommon. And although he took computer classes while in prison, he wasn't up to date. Anthony's knowledge was based in a world before Facebook, streaming video, and even Google.
He describes this disconnect as follows: "I can't explain it. Yeah. I knew about the internet and computer today, but I didn't know anything about it. They told me everything was good, but it was irrelevant by the time I got out."
Anthony wanted a fresh start upon his reentry—and that's where Safer Foundation came in.
Adjusting to a New World
Adjusting to the world outside of the justice system is incredibly difficult for justice-involved individuals. After spending time in a confined environment, many experience a dramatic shift in the pace and everyday life of the outside world. They may not be aware of changes in technology, societal norms, and even laws that have taken place since their incarceration.
It can be overwhelming to suddenly face the pressure of navigating an unfamiliar workplace, housing, and other systems. It's why organizations such as Safer Foundation exist to provide guidance and support, helping make the transition back into society smoother.
Anthony had a lot to digest when he reentered society. Fortunately, the team at Safer Foundation, especially Rhonda, was able to be there for Anthony and give him much-needed guidance, from coaching him on computer literacy to helping him establish his career.
"From the stone age to Buck Rogers right during the day," Anthony explains. "It was just amazing and very intimidating… Rhonda was really, you know, in my ear: 'You could do it, do not be afraid. You know, just take your time. Don't expect it to just be overnight, you know?'… She was very, very upfront."
Keep on Truckin'
With the basics of reentry covered, Safer Foundation has also been able to help Anthony in his dream of starting his own trucking company. Launching such an endeavor requires some financial investment in addition to all the moving parts working together in harmony. He credits Safer Foundation's Rhonda for being very instrumental in getting him started.
"She helped me with everything top to bottom," Anthony says. "Hate to say it like this. It was a new experience. I've never had people genuinely try to help me."
With Safer Foundation's guidance and his own entrepreneurial spirit, Anthony has made amazing progress towards his trucking goals.
"I've already got jobs lined up…I had a couple of people call me about a loan, so I'm ready to go. I just need to get the last two licenses, and the sky's the limit."
Safer Foundation's Social Impact Investment Fund
Stories like Anthony's are not uncommon. To provide the support clients like Anthony deserve, Safer Foundation has launched our Social Impact Investment Fund. The Social Impact Investment Fund is driven by a mission to help rebuild economic security in communities by providing justice-involved individuals with the tools they need to achieve success. This includes providing access to living-wage employment, social support, housing, healthcare resources, and advocating for public policy reform.
Studies have consistently demonstrated that the hiring of individuals with a criminal background can have a positive impact on business performance, due to their hardworking and committed attitude. What's more, reducing recidivism rates can have a significant financial benefit for the state—for instance, a 1% decrease in recidivism could potentially save the state of Illinois $10 million each year.
Safer Foundation wants to make giving easier and more engaging for donors, as their investments are essential for successful reentry for justice-involved individuals in today's difficult socioeconomic climate. That is why we have created the Social Impact Investment Fund with various investment levels—from one-time gifts of $25,000 to multiyear commitments of over $1 million.
By investing in Safer's cause, you are not only helping to address the individual struggles of justice-involved people like Anthony, but you are also participating in a movement to transform the system, ultimately improving their prospects for the future.
Donate to Support Clients like Anthony
Over the years, Safer Foundation has worked to remove the obstacles that impede successful reentry for clients like Anthony. Our Social Impact Investment Fund is the latest initiative in our history of organizational success—and you can be a key part of it.
Join us in supporting clients like Anthony by donating to Safer Foundation's Social Impact Fund.