What Are Safer Foundation's Social Enterprises?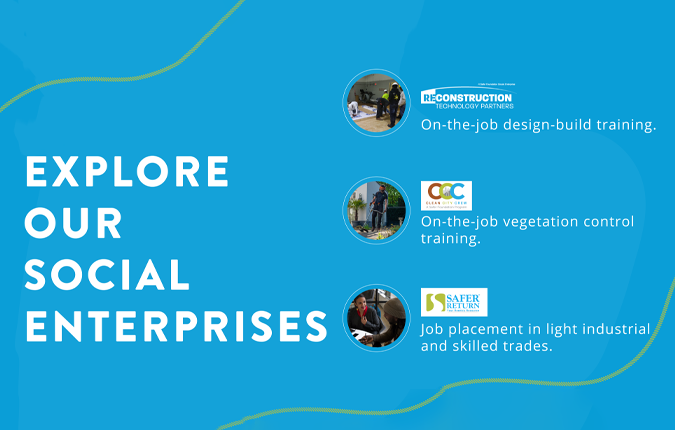 At Safer Foundation, we've had a tremendous impact on the lives of our clients over the past 50 years, and as we have grown over the decades, so has our ability to serve people. One of the most innovative and effective ways we make a difference is through suborganizations or subsidiaries called social enterprises.
Social enterprises have been a great benefit to Safer, working synergistically with our wide variety of services and programs so we can best serve the varying needs of clients.
But what exactly is a social enterprise and how does Safer Foundation fit in?
What Are Social Enterprises?
A social enterprise, also known as a social business, is an organization structured like a commercial business, only instead of focusing primarily on profits, it works towards benefitting society in some way. Social businesses can be nonprofit or profit-based, but the core feature that distinguishes a social enterprise is its dedication to a specific set of social objectives as its primary purpose.
Your typical business probably considers profit to be its primary purpose, but it's not uncommon to see many mainstream businesses purporting to care about issues such as the environment or helping disenfranchised people. But even if these businesses do support certain social causes, most are still out there to make money.
While social enterprises seek to maximize profits like a regular business, the purpose of the profits is to enable a greater ability to fulfill the social goals rather than the financial goals of shareholders. In a social enterprise, profits are principally used to fund social programs, instead of being used to pay executive salaries and bonuses.
Here's an example: Newman's Own is a well-known food brand at the supermarket, but it's also a social enterprise founded by beloved actor Paul Newman. Newman's Own donates 100% of its profits after expenses to help children in need with food and nutrition, as well as supporting children with serious diseases.
That being said, social enterprises are often confused with nonprofit organizations. While both help to uplift the communities and populations they serve, social enterprises are still businesses, and as such, they make money as opposed to raising money.
This is a key difference. Nonprofit organizations need to ask for donations or apply for grants. Social enterprises sell valuable services, allowing them to be more sustainable than nonprofit organizations. This self-funding also gives social enterprises better control over their programs.
Safer Foundation's Social Enterprises
At Safer Foundation, we have three successful social enterprises that have been impactful in improving lives. They are:
Reconstruction Technology Partners
Reconstruction Technology Partners (RTP) is a social enterprise that directly benefits the regional economy and our clients by providing design-build construction training and services. Design-build refers to a type of project in the construction industry in which one organization handles both the design and construction of buildings.
Reconstruction Technology Partners is professionally licensed and bonded in construction, offering the following services—quite a comprehensive list, as you can see from the RTP website:
General Contracting
Commercial Build-Outs
Demolition Services
Gutter Cleaning and Installation
Construction Site Clean-Up
Disaster Relief Services
Weatherization Services
Janitorial Services
Solar Panel Installation (WDC Solar)
Vacant Lot Remediation
Handyman/Home Repair
Facilities Maintenance Services
Commercial Structural Pest Control
and more!
Design-build construction is an ideal industry for our clients to explore: in any community, there's near continuous demand for construction projects, meaning there will always be new opportunities for work. In addition, the skills required are not only in high demand, but are also universal across varying projects, making our clients valuable tradespeople after receiving RTP training.
The hands-on nature of RTP's work can be especially rewarding for clients who enjoy being on their feet and contributing to society in a tangible way. Reconstruction Technology Partners helps Safer clients by providing a state-of-the-art training facility and on-the-job, hands-on training.
Much of this training is in those high-demand construction skills, which can often lead to stable jobs and strong salaries. Being in this trade can provide a sense of self-esteem, pride, and ownership in a community—a great way to help restart lives and strengthen communities.
Clean City Crew
Clean City Crew gives justice-involved individuals a new career path in helping maintain the beauty and safety of the community through vegetation control, debris removal, and keeping commercial areas clean. This is a critical job for keeping cities in good working condition. For example, utility companies require vegetation control and maintenance to keep power lines free, as vegetation overgrowth or debris on or near power lines can knock out electricity, or worse, hurt someone.
Through Clean City Crew, Safer clients receive job training and work experience by helping on projects run by the Department of Streets and Sanitation (DSS). This means they receive expert training directly from an organization that is an authority on proper vegetation management, qualifying them for any number of jobs and helping the community run smoothly while doing it.
Trainees in Clean City Crew will learn how to safely use a variety of vegetation control machines, including:
Weed Whackers
Mowers
Hand Saws
Pruners
Loppers
Edgers
They additionally learn worker safety skills and practices along with the importance of complying with Occupational Safety and Health Administration (OSHA) regulations.
The skills learned through Clean City Crew are practical and can apply to a variety of businesses and industries. This empirical training is extremely useful in helping clients transfer their skills to later positions, giving them the flexibility to find the right career path for their wants and needs.
Pivotal Staffing
Pivotal Staffing is another Safer social enterprise dedicated to overcoming the substantial barriers to employment that justice-involved individuals face. Often, one of the first needs our clients express is for immediate employment. Pivotal Staffing allows us to address that need for clients with a wide variety of skillsets and interests.
Pivotal Staffing helps clients interested in an array of positions that do not require a college degree, including light industrial jobs, skilled trades, and entry-level positions. Through Pivotal Staffing, we help our clients gain steady employment as machine operators, landscapers, housekeepers and janitors, forklift operators, shipping and receiving clerks, and more. These jobs may be longer-term for some clients, or may simply be a necessary stepping stone to later advancement. Regardless, the positions our clients are placed in are indeed pivotal on their road to reentry.
Of course, employers also benefit from working with Pivotal Staffing because we prepare our clients to be reliable and valuable employees. With Pivotal Staffing, employers can gain qualified new team members without risking the liability of direct hiring, making our candidates dependable standouts in the job market.
The Importance of Social Enterprises
One of the biggest challenges for justice-involved individuals is to obtain work experience after being incarcerated, especially for longer periods of time. Being given the opportunity of real-world experience and training is a gift that can completely transform lives, and one we aim to make accessible to all.
The training and skills provided through social enterprises can often lead to stable jobs and strong salaries, bolstering Safer's overarching mission of providing the stabilizing support, employment, education, and advocacy that empower justice-involved individuals to achieve their true potential. Being in a trade can provide a sense of self-esteem, pride, and ownership in a community, helping bridge the gap between where our clients are and where they want to be. It is a great way to help restart lives and strengthen communities.
In conjunction with our social enterprises, Safer Foundation coordinates case management, job placement assistance, and vocational counseling to combine real-world activities with supportive services, assisting participants in overcoming barriers to employment.
The revenues Safer Foundation generates through our social enterprises are reinvested back into programs to help our clients. Meanwhile, employers also get great value for their money—a win/win.
At Safer Foundation, we aim to help underserved communities and populations thrive, and social enterprise models are incredibly important programs that support this mission.
If you or someone you know could use help from Safer Foundation's social enterprises, please reach out to us. If you are interested in contributing to help pave the road to the next 50 years, consider donating.