Donor Profile: Giving Time, Money, and Talents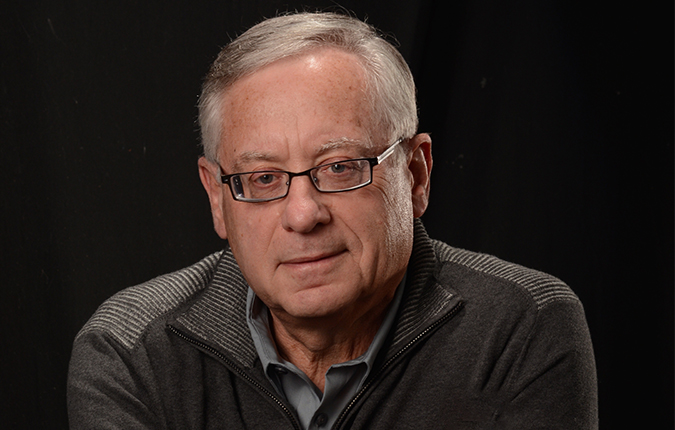 In celebration of Safer Foundation's 50th anniversary, we're sharing some of the incredible stories and successes achieved throughout our five decades of empowering formerly incarcerated individuals and reducing recidivism. This work wouldn't be possible without the contributions of donors and volunteers who believe in our mission.
Howard Tatar has been a Chicagoan his entire life. After graduating law school, he headed up trust departments for major banks like Bank of America. He had long been interested in giving back to his community, but it wasn't until he left his job and started his own banking company, which he still runs, that he finally had the time to commit. And when that time came, he knew just where to turn.
"About 11 years ago, I walked into—I mean, literally walked into—Safer Foundation, and said, 'Hey, tell me about what you're doing here. I'm interested in volunteering,'" explains Howard. "I'm not over-exaggerating when I tell you that within two weeks I was standing up in a classroom. I found myself conducting the class, and the rest is history."
Howard went on to completely redesign Safer Foundation's job interview skills workshop. He began working with clients every week, teaching them how to interview for jobs so they could become gainfully employed, focus on their future, and not dwell on or be dragged down by their past.
"I've worked with people who have been released from incarceration, everything from murder to drug sales to assault and battery," Howard says. "It's just the alpha and omega of crimes, but they're there because they want to look to their future and not dwell on their past."
Before choosing to volunteer at Safer Foundation, Howard considered a few organizations and found Safer to be his top contender.
"I decided to go with Safer Foundation, and I've never regretted it," he explains. "I was the Volunteer of the Year around three or four years ago. I've probably worked with over 4,000 men and women who have been released from incarceration and helped them practice, know what to do, and what not to do, and what to say and what not to say, when it comes to interviewing for a job."
Contributing to Create More Opportunity
In addition to volunteering at Safer Foundation, Howard is also an avid donor. He not only contributes financially, but as a fine art photographer and photojournalist, he also donates his talents to the cause. Each year, Howard donates his works of art to Safer Foundation for auction at our annual golf outing, a contribution that helps raise essential funding for our work.
Howard also supports Safer's lobbying to promote positive legislative efforts in Springfield and beyond. Howard is a firm believer that investing in people is far better than punishing them after being released from prison.
As he explains, "From the standpoint of the cost to society, it is much better to give these people a vision of how they can turn their lives around, and have control of their lives… than it is to have them come out of incarceration and just be viewed as a thorn in the side of society.
"You know, the motto of Safer is along the lines that everybody deserves a second chance. And I truly believe that. Some people just made bad decisions, plain and simple. They paid the price to society. So, let's move on. Don't scorn them. Give them a vision.
"These people have children. They may have grandchildren. And if you turn your back on these people, you're, in effect, turning your back on their children and grandchildren."
Working With the Safer Foundation Team
Howard also genuinely enjoys working with the Safer Foundation team, of which he cannot speak highly enough.
"There's no better example than the two ladies I work with who are full-time employees of Safer," says Howard about two of our job readiness training employees, Emma Price and Harriett Mosley. "They have given me all the encouragement and all the guidance I could possibly expect to do the job that I do…
"The clients at Safer are so lucky that they have people who truly want them to succeed. I think the world of these two ladies.
"They really trusted me to do what I'm doing today. They basically said, 'Okay, you go run with it.' And I haven't stopped running."
Communication is key to organizing Howard's interview preparation workshops. This was especially important when the pandemic hit, and Howard needed to transition from in-person workshops to Zoom meetings. While Zoom is a great tool, Howard does prefer working with clients in person when possible. He feels he has more time to connect and train people as needed, giving them more hands-on guidance.
Supporting the Community Beyond Safer Foundation
When Howard is not volunteering at Safer Foundation, he supports his personal synagogue, where he is very active. He also financially supports Youth Job Center, an organization out of Evanston, Illinois, which helps kids coming out of high school find employment.
It's safe to say that Howard is an incredibly active contributor to his community in more ways than one. Even still, Safer Foundation is Howard's passion because of the people he gets to directly help.
"I think so highly of the purpose of this organization," he says. "I'm not exaggerating when I tell you this: I've probably met statistically with about 4,000 people who've been released from incarceration.
"And I can honestly tell you that every one of them is different. I go into my classes every week and no two have been the same. Each one has their own individual challenges. But I wouldn't trade it for the world. It's great. I have people break down and cry with me. I help people with a lot of anger inside of them.
"I've seen it all. But I always say I love doing it.
"I've been doing it for over ten years, and I never tire of it. I absolutely love doing it."
If you'd like to volunteer and/or donate to make the road to a better future a broader and smoother journey for people who need a second chance, simply visit our donation page.