Celebrating 50 Years — Of Shaping Public Policy & Advocacy Work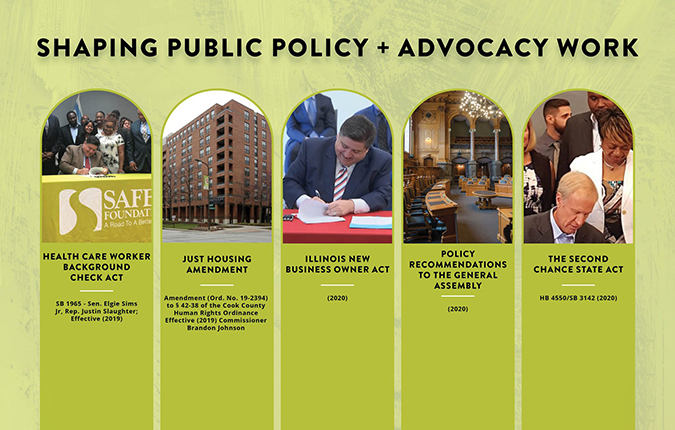 Every step we take is focused on helping our clients successfully reenter society. This month, we offer a closer look at how Safer Foundation has worked to reduce the statutory and perceptual barriers associated with incarceration and encourage success among formerly incarcerated individuals through the establishment of public policy. By working closely with government entities, employers and employer associations, Safer Foundation helps create sound policies and business practices that support the full participation in society by individuals with arrest or conviction records.
How Safer Foundation Works to Shape Public Policy
Public policy plays an essential role in defining the principles and guidelines that impact the life of each citizen. By influencing public policy, we bring focus and solutions to the challenging real-world issues facing our clients.
To coordinate with government entities more effectively, Safer Foundation worked to establish the Council of Advisors to Reduce Recidivism through Employment (CARRE) in 2001 to focus on the removal and reduction of barriers to employment for justice-involved individuals. CARRE represents more than 100 individuals, groups, agencies, coalitions, and institutions. It has provided legislative assistance, research, and advocacy in areas such as expungement, sealing, and Certificates of Relief from Disability and Good Conduct.
Additionally, Safer Foundation actively participates on U.S. Congressman Danny Davis' Criminal Justice Advisory Task Force and is a founding member of the Illinois Association for Criminal Justice. Through these initiatives and more, we are proud to celebrate these important milestones in our championing of public policies that help our clients more successfully reintegrate into society:
HEALTH CARE WORKER BACKGROUND CHECK ACT (SB 1965 – SEN. ELGIE SIMS JR, REP. JUSTIN SLAUGHTER; EFFECTIVE (2019)
For people with records seeking employment in direct care positions, this Act creates a more efficient healthcare waiver application process. It expands the list of organizations that can request healthcare registry waivers and includes workforce intermediaries and pro bono legal services among organizations that can initiate a fingerprint-based background check.
This Act plays a pivotal role in allowing Safer Foundation to develop the state's healthcare industry talent pipeline. To date, Safer Foundation has placed over 125 clients in healthcare positions.
JUST HOUSING AMENDMENT (ORD. NO. 19-2394) TO § 42-38 OF THE COOK COUNTY HUMAN RIGHTS ORDINANCE EFFECTIVE (2019) COMMISSIONER BRANDON JOHNSON)
This Amendment ensures that housing providers and housing authorities do not consider certain aspects of a person's record—such as arrests, juvenile records, and sealed and expunged records—when making housing determinations.
For applicants with a conviction record, housing providers must conduct an individualized assessment and consider factors such as the nature of the offense and the time that has passed since the offense.
The Just Housing Amendment protects over 1 million people in Cook County from housing discrimination.
ILLINOIS NEW BUSINESS OWNER ACT (HB 2670 – SEN. KIMBERLY A. LIGHTFORD, REP. LAMONT J. ROBINSON, JR.; EFFECTIVE (2020)
Safer Foundation collaborated with Social Change and the Illinois Department of Financial and Professional Regulation to improve transparency in the occupational licensing process by creating the Illinois New Business Owner Act.
This Act provides that certain mitigating factors must be reviewed when considering a previous conviction.
POLICY RECOMMENDATIONS TO THE GENERAL ASSEMBLY (2020)
Safer Foundation has provided recommendations to the General Assembly regarding the creation of a fair, equitable, and consistent conviction review process for licensing standards. The allocation of revenue generated by cannabis legislation goes towards grants for re-entry organizations in addition to violence prevention.
Safer Foundation's recommendations were key in the Cannabis Regulation and Tax Act.
ONGOING AND CURRENT PUBLIC POLICY EFFORTS
We know that Illinois' current approach to recidivism is not working. There is a 40% recidivism rate estimated to cost Illinois over $13 billion between 2018 and 2023 according to the Illinois Sentencing Policy Advisory Council.
Safer Foundation introduced six bills in the 102nd Illinois General Assembly session known as the Second Chance State Act (HB4550/SB3142) that will coordinate government and not-for-profit programs to create comprehensive, personalized services to help justice-involved individuals avoid recidivism.
Components of the Initiative address other social determinants of crime:
The Second Chance State Behavioral Health Workforce Development Act (HB4676/SB3947) leverages formerly incarcerated individuals' ability to connect with their peers by providing scholarships and other pathways to become licensed behavioral healthcare professionals.
The Second Chance State Housing Act (HB4582/SB3414) revitalizes neighborhoods by using tax credits and other vehicles to rehabilitate tax delinquent and distressed residences for use by the formerly incarcerated.
The Second Chance State Contracts Act (HB4551/SB3469) creates sustainable employment for the formerly incarcerated by earmarking dollars from State public works and collective bargaining contracts for apprenticeship programs.
The Second Chance State Education Act (HB5473/SB3823) provides current and formerly incarcerated individuals with opportunities for success by requiring colleges to reserve one seat in every class for them, tuition free.
The Second Chance State Reimaging Justice Act (HB4527/SB3606) creates an alternative to prosecution that allows justice-involved residents to receive individualized services facilitated by community-based organizations in 13 "hub" communities throughout the State.
By addressing the social determinants that are proven to impact recidivism, Illinois will be poised to achieve significant decreases in overall crime, resulting in thriving people and communities.
2022 Reentry Guidelines
The Illinois Alliance for Reentry and Justice (IARJ) of which Safer Foundation is a founding member, brings together directly impacted individuals, advocates, and service providers working on reentry in Illinois to create alternatives to incarceration, reduce recidivism, and end mass incarceration.
In 2022, the Alliance released the first-ever statewide reentry guidelines. These guidelines articulate that reentry is tied to a wide range of socioeconomic problems faced by people impacted by the criminal legal system. They outline an effective reentry infrastructure geared towards increasing quality of life and reducing recidivism and violence. The guidelines will be shared with local, state, and federal stakeholders as well as faith- and community-based agencies with the goal of standardizing the reentry experience for the justice-involved and their families.
MOVING AHEAD POLICY BY POLICY
As we move through this year and beyond, Safer Foundation remains committed to supporting our clients through the development of strong public policies aimed at reducing barriers to re-entry, creating stability, and helping previously incarcerated individuals more forward with success.
If you'd like to donate to make the road to a better future a broader and smoother journey, simply visit our donation page. If you need help moving back into society after incarceration, contact us. And if you would like to volunteer, we would love to work with you!