Empowering Youth Through Photography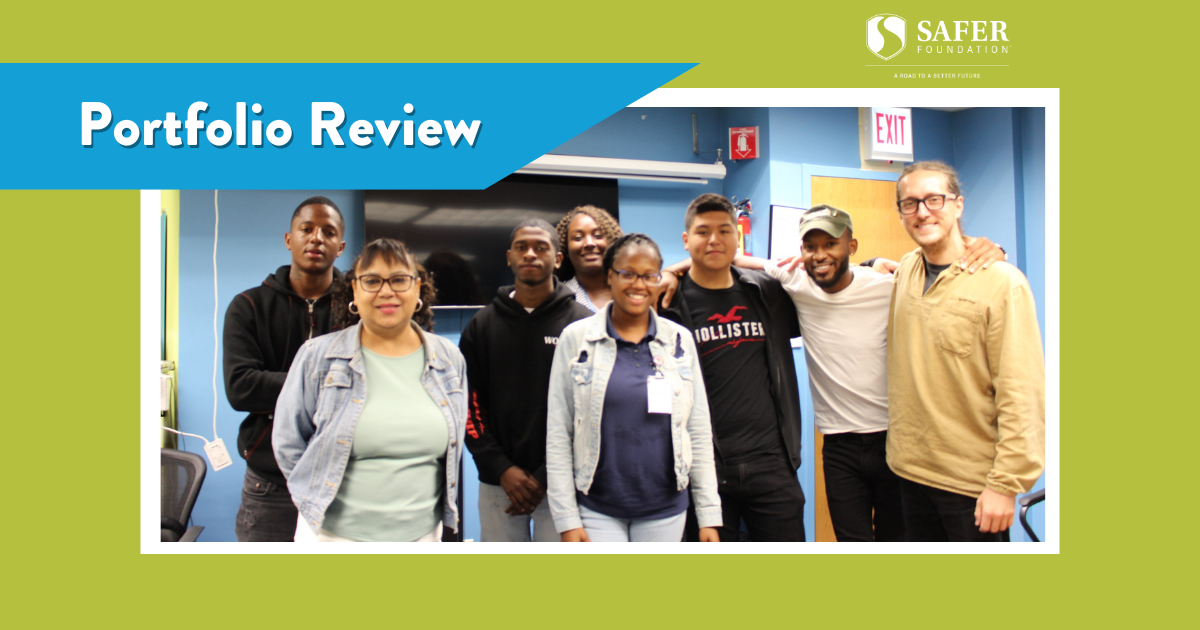 Introduction:
In a world where opportunities are essential for personal growth, the Safer Foundation's Youth Empowerment Program (YEP) is making a significant impact. YEP is more than just an eight-week program; it's a transformative journey for young individuals aged 16 to 24, equipping them with the tools to earn their High School Equivalency Diploma (HSED) and navigate life's challenges with confidence.
Unlocking Potential with YEP:
YEP is an open door to a brighter future, regardless of one's past. Safer Foundation Youth Empowerment Program believes in providing a second chance to youth, whether they have a conviction record or not. We are thrilled that our organization was awarded a grant through the Chicago Community Impact Grants Program in partnership with McDonalds Corporation and the Chicago Community Trust. Thanks to this funding Safer Foundation's Youth Empowerment Program offers hands-on job readiness training, career exploration, money management skills, and more. We are honored to be part of this incredible group of Chicago nonprofit organizations selected for this program. YEP, offers a comprehensive approach that guides young participants on a path to personal and professional growth.
Exploring the Arts Through Photography
In partnership with Alt Space Chicago via the C.L.A.Y Program, our students were given the opportunity to dive into the world of photography. The  C.L.A.Y. Program is an innovative platform that harnesses the power of the arts to help youth understand their potential and develop real-time problem-solving skills. Students who participate in C.L.A.Y. leave with a solid foundation in collaboration, conceptualization, and career development. They receive mentorship from industry professionals, allowing them to hone their collaborative abilities, leadership skills, and time management capabilities. Ownership and creativity are highly encouraged, fostering an environment where youth can truly flourish.
Building Portfolios and Sharing Visions
A significant aspect of the photography curriculum within YEP was the creation of personal portfolios. On September 1st, Safer Foundation proudly hosted a Portfolio Presentation Event where two of Safer's talented YEP students, Christopher and Demarcus, showcased their portfolios. This event provided a platform for them to share their work, interests, and the stories behind the captivating photographs they captured. We also had a guest speaker, Eric Rejman a professional photographer who spoke passionately about his journey with photographer and the multiple projects he has worked on throughout his career.
Christopher, a passionate sports enthusiast, described himself as a photographer in training. He enjoys the thrill of traveling and cherishing moments with his family. Demarcus, on the other hand, identifies as an artist who loves making music, taking photos, and even modeling.
Christopher and Demarcus were just two of the students who enrolled in the course and embarked on the journey of creating their portfolios. Below, you can find links to the portfolios of all the students who participated in the program.
Christopher: portfolio
Demarcus: portfolio
Cashmere: portfolio
Richard: portfolio
A Holistic Approach to Personal Growth
Kenneshia F., Safer Foundation's dedicated Program Manager, emphasized the transformative power of the photography cohort. "The photography cohort has provided a holistic approach for students to view everyday objects as art. The students were very nervous at first. But as they continued to present their work and explain their visions, it became natural. I'm excited to see our students become more inspired, vocal, engaged, and optimistic with the implementation of this cohort."
At Safer Foundation, we firmly believe in the potential of every individual, regardless of their background or circumstances. Our YEP program, enriched by the creative endeavors of photography, is a testament to our commitment to nurturing talent, building confidence, and providing pathways to success.
If you or someone you know could benefit from our Youth Empowerment Program, we encourage you to reach out and discover the possibilities that await within our supportive community. Together, we can unlock the potential of our youth and empower them to shape their own brighter futures.