THE ROAD THUS FAR: CELEBRATING SAFER FOUNDATION'S 50TH ANNIVERSARY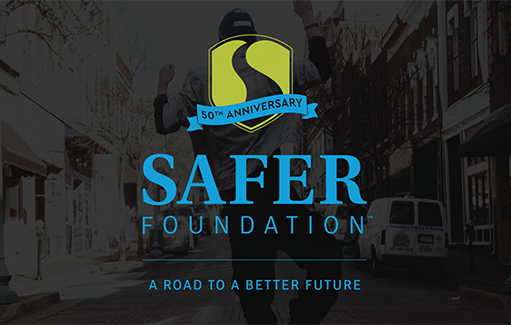 The road to a better future. It's a long journey, and one that our organization has helped countless along. Today, we annually support over 5,000 men, women, and youth in attaining gainful employment. Our efforts go beyond the individual level to create a lasting positive impact on families and communities at large. But we didn't get here overnight.
2022 marks a historic milestone in our organization's journey: Safer Foundation's 50th anniversary. A cause for both celebration and reflection, this anniversary marks half a century of relentless efforts, initiatives, legislation, and more. It's time we commemorate these achievements that, together, have brought us step by step closer to creating an unobstructed, achievable journey for our clients on the road to a better future.
Where it all began.
Before there was Safer Foundation, there was a vision. Raymond "Bernie" Curran and Gus Wilhelmy's vision, to be exact. Two former Catholic priests, Curran and Wilhelmy worked at the Portland Cement Association in Skokie, IL in 1970. There, they helped the company train formerly incarcerated individuals to lay cement and saw that many were able to find new careers shortly after.
Curran, who oversaw the manpower development and training department, and Wilhelmy, who had his own history of counseling men in prison, were inspired by the program. They sought a way to bring its model to more individuals released from incarceration. With a grant from the U.S. Department of Justice, they founded Operation DARE (Direct Action for Rehabilitation and Employment of Ex-Offenders) that same year.
From Dare to Safer.
DARE was incredibly successful at helping ex-offenders find work in the construction industry but opened the pair's eyes to another hurdle standing in their way. Most DARE clients had only received a few years of high school education, functioning at 4th and 5th grade reading levels. Combined with a lack of job history and marketable skills, this limited their opportunities post-incarceration—but it also sparked a new vision for Curran and Wilhelmy.
In 1972, the two left their positions at the Portland Cement Association to pursue their greatest effort yet: transforming Operation DARE into an all-encompassing reentry assistance provider, called Safer Foundation.
By 1973, their vision became reality, with a board of directors comprised of several influential business executives, more than 20 staffers, and a budget of $300,000 helping serve over 2,000 ex-offenders on the road to their better future.
Gaining Traction Throughout Chicagoland.
Ten short years later, Safer Foundation was already reaching its next major milestones. In 1983, our efforts had gained the attention of the Illinois Department of Corrections (IDOC), who determined Safer Foundation would be the ideal organization to run the Crossroads Adult Transition Center (ATC).
The IDOC was right: The Crossroads ATC was created to reduce recidivism by providing structure through full-spectrum services for people with criminal records, making it perfectly aligned with Safer Foundation's mission. It was one of our first major achievements. And a few years later in 1986, we reached another significant milestone: the launch of the PACE Institute in Cook County Jail.
We once again worked successfully in partnership with a correctional facility (CCDOC), this time to help current detainees improve their education and prepare for their High School Equivalency Diploma (HSED) through courses in math, writing, and reading.
Progress in the New Millennium.
By the age of the new millennium, Safer Foundation had garnered a reputation throughout Chicagoland—and even still, we were just getting started. The first ten years of the 21st century were some of our most historic. In 2000, the success of the Crossroads ATC led to the opening of our second ATC in North Lawndale, and in 2001, we created our Council of Advisors to Reduce Recidivism through Employment.
A couple of years later in 2003, Safer Foundation launched the Ready4Work program, which combined reentry counseling, group mentoring, and job readiness and placement for people returning from prison throughout Cook County. By 2004, we expanded our pre-and post-release services to inmates at Sheridan Correctional Centers.
Taking Our Efforts to the Top
That same year, Safer Foundation began our efforts to reduce recidivism not only through service but through legislation as well. Just four years before his presidency, we partnered with Illinois Senator Barack Obama on creating the Certificate of Good Conduct and Certificate of Relief from Disabilities.
Then, in 2008, we ventured once again into the world of legislation by partnering with Representative Danny Davis to pass the Second Chance Act. At that same time, we continued to roll out new services in support of the formerly incarcerated, including the launch of our program, Safer Return.
In 2011, Safer Foundation's political and social impact earned former President Diane Williams the White House Champion of Change Award—an impressive accolade that helped us garner national attention. The 2010s continued to be impactful for our organization with the launch of the Safer Demand Skills Collaborative® (SDSC) in 2015. The SDSC is a collaborative of employer and training partners that offer credential training, leading to career pathways in high-growth occupations and enhancing Safer Foundation's client services model. Initially launched in the healthcare industry, it now trains clients in the five key industries of healthcare, technology, hospitality, advanced manufacturing, and transportation logistics and distribution.
In 2016, we further opened access to previously closed pathways in a wide range of occupations with the completion of our draft of the Illinois Occupational Licensing Reform Bill, which dramatically reduces the collateral consequences of incarceration.
An Impact 50 Years in the Making
Today, in the year of our 50th anniversary, we're still seeing the positive effects of our decades of dedication. When we began running the Crossroads ATC in 1983, it operated out of the fourth floor of the former Sears YMCA with just 60 beds available. Now, still under the care of Safer Foundation, the Crossroads ATC is the largest ATC in Illinois, run out of Chicago's west side with over 80 staffers and a 330-bed capacity.
The PACE Institute is also a longstanding success, operating today at full capacity with a waitlist for a coveted spot in the program. The web-based Safer Return platform builds upon our 50 years of reentry work and resources to connect individuals in any location and at any stage of their journey to Safer services and supports. We continue to create new programs and draft legislation that furthers our mission for Chicagoland, Illinois, and the entire country at large.
Safer Foundation's unparalleled commitment to improving the reentry process and guiding formerly incarcerated individuals will never waiver. But as we look down that promising road ahead, it's paramount that we don't lose sight of the distance we've traveled thus far and the efforts that brought us here.
From each of us at Safer Foundation, we thank our staff, volunteers, donors, legislators, and, above all, our clients for the part they've played in our success thus far—and for the incredible milestones, we have yet to achieve together. If you'd like to donate to make the road to a better future a broader and smoother journey, simply visit our donation page.